Recherche
Paulo Veiga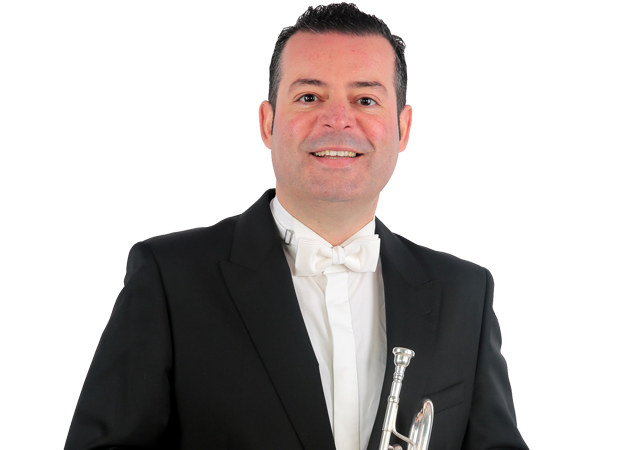 Trumpeter & Artistic Director at the Associação da Banda Musical da Póvoa de Varzim
Paulo Veiga, is a Portuguese trumpeter, born in Vila do Conde (1979) and started his musical studies at the age of 17. With origins in the vast universe of filarmony, in 1998 he joined the Associação da Banda Musical da Póvoa de Varzim, an institution that allowed him to make the musical area his professional path. He currently holds the position of artistic director at this institution.
He completed the Basic and Complementary Trumpet Courses at the Escola de Música da Póvoa de Varzim in the classes of teachers Manuel Nunes and Manuel Queirós. He obtained the Bachelor and Licentiate degrees from the Escola Superior de Música e das Artes do Espetáculo do Porto in the class of Professor Kevin Wauldron and the Master's degree from the Universidade de Aveiro – Departamento de Comunicação e Arte, under the guidance of PhD Jorge Salgado Correia. Since he dedicates himself, in a large part of his activity, to teaching, he obtained the Professionalization in Music Teaching at the Universidade de Aveiro under the guidance of Professor Jorge Almeida. Conducted doctoral studies at the University of Santiago de Compostela between 2012 and 2014, under the guidance of Catedratic Professor Estela Lamas. Related to the continuous search for new paradigms in terms of performance and musical pedagogy, he regularly develops research on Portuguese repertoire and composers, with some of this work already published through AVA Musical Editions.
Alongside his studies, he complemented his artistic training by attending masterclasses with professors Reinhold Friedrich, Kevin Wauldron, Charles Butler, Garry Farr, António Quítalo, John Aigi Hurn, Guy Touvron, Rex Richardson, Charles Schlueter, Robert Civiletti, Luiz Gonzalez Martí, Häkan Hardenberger, Allen Vizzutti and with the brass quintets of Spanish Brass – Luur Metals and Goiânia Brass. As part of the development of work in the area of ​​wind orchestra direction, he has already led him to participate in courses with conductors Fernando Marinho, Paulo Martins, António Saiote, Rafael Agulló Albors and José Rafael Pascual-Vilaplana. He performed in solo recitals, chamber music and orchestra in the main Portuguese concert halls and international music festivals, which led him to perform in several countries such as Spain, Italy, Canada, France, Switzerland, Monaco, Belgium, Brazil and USA. From the various orchestral and chamber formations he has already integrated, he had the opportunity to work under the baton of renowned conductors Paulo Martins, Kevin Wauldron, Jan Cober, Robertas Severnikas, António Saiote, José Rafael Pascual-Vilaplana, Cesário Costa, Alberto Roque, Osvaldo Ferreira, Yuri Nasushkin, Martin André, among others.
He is invited several times to participate in various events together with Portuguese composers, performing at the premiere of his works, which has already led him to record for the publisher Numérica and live for Antena 2. The composer Jorge Salgueiro dedicated his works to him. three Toccatas for Trompete Solo and the composer Ricardo Melo dedicated the work CTPVX to him, when celebrating the 10th edition of the Concurso de Trompete da Póvoa de Varzim. He has taught masterclasses in Portugal and Brazil.
Since 2006 he has been teaching at the Escola de Música da Póvoa de Varzim, currently integrating the Pedagogical Direction of this educational establishment. Its students are often awarded in national and international competitions. He has been artistic director of the Concurso de Trompete da Póvoa de Varzim (CTPV) since its creation in 2010, and this activity has already held eleven uninterrupted editions and has reached a universe of over a thousand young trumpeters throughout its history. .
Since 2015 he has been an artist Cardoso & Conceição, Lda./Buffet Crampon, through the brands of trumpets B&S, Besson and Scherzer and flugelhorns Antoine Courtois. Paulo Veiga was the first Portuguese trumpeter to play exclusively with these brands, becoming one of the promoters of them throughout almost the entire national territory.
Instruments
31312

Exquisite EXE

Metropolitan

Retour en Haut