Recherche
Benny Brown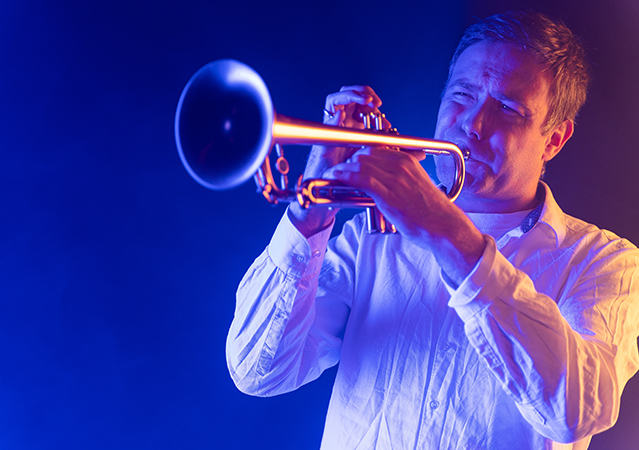 Lecturer for Big Band at Hochschule für Musik und Theater Hamburg
Benny Brown was born in Münster (Westphalia) in 1983. Growing up in a family of musicians, he learned to play the piano in early childhood before discovering the trumpet for himself at the age of 16. After four years of classical lessons with Achim Böder, graduation from high school and military service as first flugelhorn player and trumpet player in the Luftwaffenmusikkorps III, he moved to Hamburg in 2004 to study trumpet with Ingolf Burkhardt (jazz), Lennart Axelsson (lead) and Eckhard Schmidt (classical). At this time he already completed his first international tours with the Landesjugendjazzorchester NRW and later with the Bundesjugendjazzorchester (BuJazzO) under the direction of Peter Herbolzheimer, Marco Lackner, Bill Dobbins and Ed Partyka and was booked for numerous concerts and CD productions for the NDR Bigband.
In the meantime Benny, who has long since established himself on the international scene as an all-round trumpet player, can look back on an almost endless list of live engagements and studio sessions. For example, he played solo trumpet in the film « Der Staat gegen Fritz Bauer ». In May 2014, his debut CD « Brown » was released with his quartet, the « Benny Brown Band », with which he has already played at numerous festivals. In the same year Benny became an endorser of B&S trumpets and since then he gives concerts and workshops internationally.
Since 2015 Benny Brown has been a lecturer for Big Band at the Hochschule für Musik und Theater Hamburg and since 2018 lecturer for Jazz Trumpet at the Hochschule für Musik, Theater und Medien Hannover.
Instruments
MBX3 – Heritage

Retour en Haut