Recherche
Adrian Corredor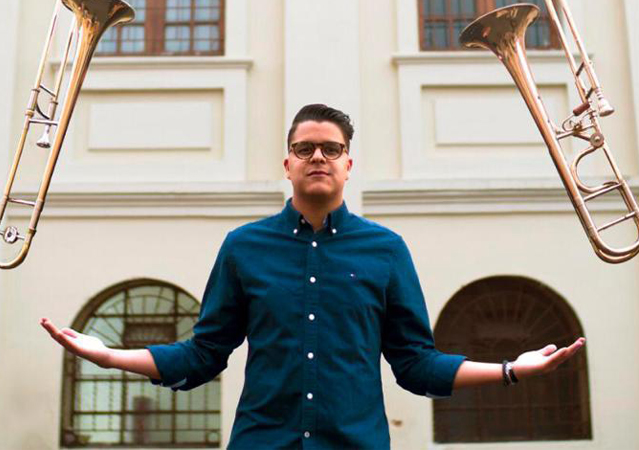 Freelance Artist
A Venezuelan trombone player who started his musical studies in San Cristóbal-Táchira State at the Miguel Angel Espinel School, inspired by his father as he was tutored by him. He participated in the Simon Bolivar Symphony Orchestra and the Experimental Philharmonic Band, in which he played as a soloist for several times.
He enters the Caracas Youth Symphony Orchestra, then he takes part in the trombones row of the Venezuela Symphony Orchestra for one year, with which he went on national and international tours such as Cuba-2009. In 2010, he enters after a contest in to the Simon Bolivar Symphony Orchestra of Venezuela, going along with this Orchestra on different tours such as the Switzerland-Italy tour 2011 with the Master Christian Vasquez, Bogotá Tour 2013 directed by the Master Gustavo Dudamel, South American tour with Master Gustavo Dudamel and Mexico Tour with Master Diego Matheuz.
In February  2012, he had an outstanding performance as a soloist in the "Concert for nine trombones"  "The  Waves of Wollongong" debuted in Latin America , composed and directed by the Great trombone player Christian Lindberg, performed by the Simon Bolivar Orchestra of Venezuela.
As an important part of his background in the field of Chamber Music, he was a member of the quintet Stunning Brass, obtaining the third place in the contest of the Second Chamber Music Festival of the Music Foundation Simón Bolívar.  This group also participated in the FESTICAMARA, held in Medellín, Colombia, teaching classes and performing concerts. Adrián also participated in the "Venezuela Trombone Ensemble" a music group with which he performed national concerts and recitals and a remarkable participation in the very well-known Low Brass International Course in Perú, 2010.
Playing his role as a teacher, he was a professor of the Trombone National Academy and the Simón Bolivar Conservatory of Music, with an outstanding participation as a member of the jury, as well as tutoring workshops for different music groups founded by the Simón Bolívar Conservatory of Music and the National System of Choirs, Children and Youth Orchestras of Venezuela; hence, he became a cornerstone for music groups development.
He has performed as a guest in the Colombia National Symphony Orchestra and the Jalisco Philharmonic Orchestra, where he participated in several concerts playing the famous Opera Turandot.    
Alongside with his academic background, Adrián Corredor has been interested in developing his versatility as a trombone player in different music genres. He has participated in the Simón Bolívar Big Band Jazz since it was founded,  going on numerous national and international tours, such as the U.S. tour in 2015, and the France tour in the same year.
As a part of the show business, he had performed in concerts and tours with famous artists such as Gilberto Santa Rosa, Luis Enrique, Jerry Rivera, Rafael el Pollo Brito, Salserin, Servando y Florentino, Chino y Nacho,
(Radio Universo Tour, 2016), TREO Group, Voz Veis, Aditus Group,  Tito Rojas, Roberto Lugo, Roberto Blades, Richie Rey &Bobby Cruz, Rawayana, Felipe Peláez, Wilfrido Vargas, Santiago Cruz, Maelo Ruiz, Los Adolescentes, José Luis Rodríguez  "El Puma", among others.
Nowadays, he is enrolled in the list of the prestigious French brand Buffet Crampon, with which he has taught several master classes and recitals in  Latin American Countries as, Colombia, Ecuador and Panamá. He has been frequently invited to MSI productions to be part of roll of musicians in their latest shows and he is a member of the "Nueva Filarmonía Orchestra" in Colombia, where he participated recently in the "Fourth Classic Music Festival in Bogotá".
Instruments
MS14

Retour en Haut