Recherche
Jozsef Bazsinka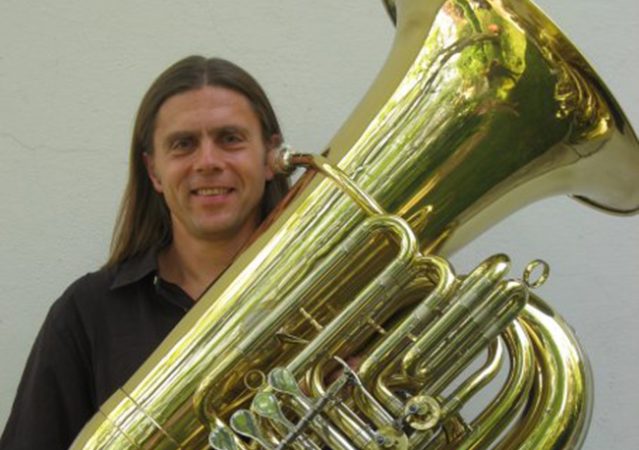 Solo-Tubist of the Budapester Festivalorchesters
Born in 1962 in Budapest, he started his musical studies at Bicske with László Sződy between 1974-76, and continued them in the Music School of the Hungarian Army with László Szabó between 1976 and 1981. 1981-85 Budapest, Ferenc Liszt Academy of Music, with László Ujfalusi PhD . He attended several master courses (with Roger Bobo, Mel Culbertson and Sam Pilafian) and participated in international brass and chamber music competitions:
1976, Prague, 1st Prize
1982, Barcs, Hungary, 1st Prize
1982, Ancona,Italy, 1st Prize
1984, Markneukirchen, 2nd Prize
1986, Narbonne, France, 1st Prize
1992: Markneukirchen (Deutschland), III.prize
1995, Sidney, 2nd Prize
As a soloist he has performed in Spain, France, Germany, Australia and the USA. Between 1988-92 he was teaching tuba in the Béla Bartók Secondary Music School, between 2000-2008 he has been professor of the Saint Stephan Secondary Music School. 2009- University of Pécs (Faculty of Visual Arts and Music). 1989-Professor and jury member of many national and international Tuba master course and competition around the world.
Between 1983 and 1993 he was playing in the Orchestra of the Hungary State Opera House. Since 1993 he has been member of the Budapest Festival Orchestra.
Guest artist at the: Berliner Radio, Bayerischer Rundfunk, Zagreb Philharmonie, Klangforum Wien, Pro Brass Ensemble Linz, Hungarian Radio Orchestra, etc. Chamber groups: 1982-92 Anonymus Brass Quintet, 1997- Hungarian Brass Quintet.
In 1996 he was awarded with the Liszt Prize. Mr.Bazsinka is member of the Hungarian, as well as of the International Tuba Association.
Dischographie, solo and chamber recordings:
1994: László Dubrovay: Triple Concerto, HCD 31349
1995: László Tihanyi: The Silance of Winds, HCD 31352
1995: Bogár István:Concerto for Tuba and Wind orch., HCD 31612
1996: Wawes,-independent solo CD, HCD31642
1996: Hidas Frigyes: Tuba concerto,BMC 96002-2
1997: László Dubrovay:Triple Concerto,(for wind arr.) HCD 31716
2001: French Connection,-independent solo CD, HCD31953
2004 Köműves János: Une Rapsodie Basse (Classic Sounds C J.K. 2004)
2004 Viola da Tuba, independent solo CD, (BME 001)
2010 Piano version, independent solo CD, (BME 002)
Chamber recordings:
Anonymus Brass Quintet: SLPX 31405 Radioton
1997 Drachenkampf, 200232 MU 750 Accord
2001 Hungarian Brass Quintet
With Pro Brass Ensemble:
A la Carte
In Memoriam Bruckner
Retour en Haut