Suche
Jorge Almeida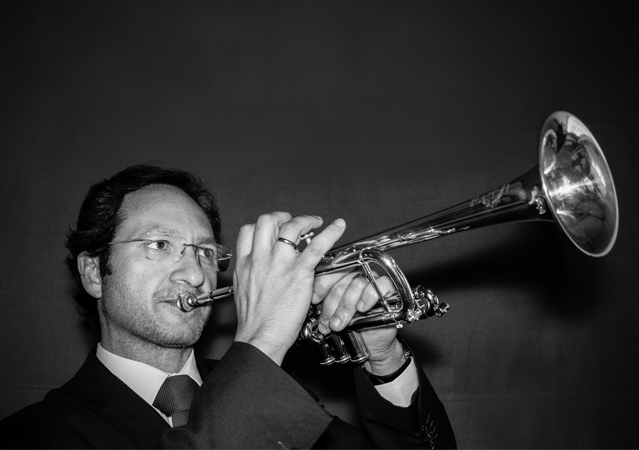 Principal Trumpet Player in TNSC Ópera House
Born in 1971, Santa Maria da Feira, Jorge Almeida started his musical education in the Academia de Música de São João da Madeira, at the age of 11.
Son of the amateur trumpetist "Jaime Almeida", who arranged for him to have his first Philharmonic experiences in the Banda Musical de Santiago de Lobão, while still a music student.
In 1985 he won the Primeiro Prémio Nacional, as part of the Prémio Juventude Musical Portuguesa, coordinated by its president, "Miguel Henriques".
From 1988 to 1993, he was part of the militar musical groups (Infantry Regimento of Porto and the Queluz Military Symphony Band, while doing his militar studies in the 20th Sergeant Training Course).
In 1993, he finished the Sergeant Training Course and became a member of the Banda Sinfónica da Polícia de Segurança Pública, where he held the position of 1º sub-chefe as a soloist. Beginning in 1995, he was a student at the Academia Nacional Superior de Orquestra ANSO (Lisbon), where he studied under Douglas Stephenson, David Burt, Robert Chambers III and Philip Navat, his teachers in the art of playing the trumpet.
As a student in this institution, he was invited to be the 2º trumpet player at the Lisbon Metropolitan Orchestra. In a later phase, he got the place of soloist trumpetist in the same orchestra. During this time, he was also teaching chamber music and performance of his instrument.
In 1998, he got the promoted to first trumpet player of the Portuguese Symphony Orchestra of the São Carlos Opera House. Parallel to his orchestral activities, he attained great repute as an educator in trumpet playing performance. After having taught in the Academia de Música de Paredes, the Escola Profissional de Espinho and the Piaget de Almada Institute, he is currently a professor in the Universidade of Aveiro (Communication and Art Department).
Jorge Almeida is also recognised as a soloist that performs in all musical genres. He performed as a soloist in several national orchestras (Portuguese Symphony Orchestra, Lisbon Metropolitan Orchestra, Utopic Orchestra, Orquestra Clássica da Madeira, Portuguese Symphony Band, Orquestra das Beiras, European Capital of Culture 2012
Guimarães and the Music University of Tatuí Symphony Orchestra in São Paulo, Brazil). He collaborated in recording concertos for trumpet and wind band with several Portuguese wind bands.
He was a member of the LUME (Lisbon Undergroud music ensemble, a Big Band contemporary Jazz ensemble) with which he recorded, in 2014, the original compositions of Marco Barroso, being considered the best recording of original works that year.
Regarding his work in chamber music, Jorge Almeida works together with the brass quintet "Lisbon Brass". With this ensemble, of which all the musicians also play in the Portuguese Symphony Orchestra of the São Carlos Opera House, he performed in concerts and gave masterclasses in the most prestigious music festivals in Portugal and Brazil. This group recorded a music piece for brass written by the composer Joly Braga Santos, which can be found in the larger set "Complete Chamber Music Works by Joly Braga Santos".
J.A. was invited to be at the 2ª Trumpet International Conference in Brazil (ABT), next to renowned musicians like Adam Rapa, Rex Richardson e Gabriel Cassone. He has been invited to integrate the jury at important competitions and music festivals, both national and international, such as Prémio RS, PJM, PIC Music in Madrid, Paços Prémium among others. He was moreover involved in the project, European Capital of Culture 2012 Guimarães, where he was appointed as the soloist.
He participated in the "Projeto Amazónia" for the Münchener Biennale, playing in concerts in Germany and Brazil. Jorge Almeida took part as the artistic director together with Trumpets Mates Gang (composed of all his ex-students) in the 2012 ITG (International Trumpet Guild) Conference in Columbus (USA), culminating in a recording, in which he played as a soloist. In July of 2017 he edited his 1st Portuguese music (Fado) CD of trumpet and wind band music, filling every concert hall he performs it in. His first CD sold out in 6 months. Even this year he has been invited to take part in the ITG Conference in Grand Canaria (Las Palmas). Jorge Almeida is preparing the debut of his second CD on the 5th of May, 2019.
Retour en Haut