Search
Tiago LINCK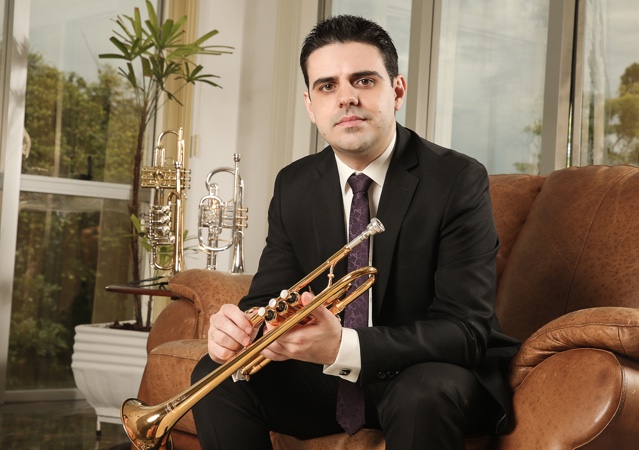 Solo Trumpet at the Porto Alegre Symphony Orchestra, Professor at the Music School of the Porto Alegre Symphony Orchestra
Born in Porto Alegre in 1987, was started in music in 1994 guided by Maestro Sergio Maslinkiewicz in "Banda Musical do Colégio Cenecista Nossa Senhora dos Anjos", Gravataí – Brazil, where he studied percussion and trumpet. In 1999 he was admitted to the School of Music of the Porto Alegre Symphony Orchestra – Pablo Komlós Conservatory, completing his studies in this institution in 2002. From 2002 to 2005 he studied trumpet in the "Sinos Acorda" project (music course developed by the University of Vale do Rio dos Sinos – Unisinos), under the guidance of Professor Evandro Matté. From 2011 to 2012 he lived in France where he specialized in trumpet with Patrick Carceller (teacher of the Conservatory of Reims and the Académie Supérieure de Musique de Strasbourg) and Pierre Dutot (former professor of conservatories of Bordeuax and CNSMD Lyon). In July 2012 Tiago Linck got the D.E.M. (Diplôme d'Etudes Musicales) at the Conservatoire National à Rayonnement Régional de Nice (FRA), having received in his final exam the highest distinction offered by this institution: mention très bien et félicitations à l'unanimité du jury. His training includes classes with great trumpeters, namely: Adolph Herseth, Alison Balsom, André Henry, Andrew Balio, Fernando Dissenha, Fred Mills, Franck Pulcini, Gábor Boldoczk, Gilberto Siqueira, Jean-François Dion, Michael Tunnell, Pascal Clarhaut, Paul Merkelo, Stéphane Gourvat, Thierry Gervais, Wolfgang Guggenberger and Yigal Meltzer.
Tiago Linck has performed in major concert halls of Brazil and countries like Argentina, Belgium, Colombia, France, Germany, Uruguay and Venezuela, and has been under the baton of renowned conductors such as Carlos Miguel Prieto, Gustavo Dudamel, Ira Levin, Isaac Karabtchevsky, Roberto Minczuk, Roberto Tibiriça, Kiyotaka Teraoka, Jacob Slagter, among others. Tiago Linck has extensive experience as an orchestral musician, having performed at major music institutions in Brazil and abroad, including the Symphony Orchestra of Paraná; Philharmonic Orchestra of Minas Gerais; University of Caxias do Sul Symphony Orchestra, RS, Brazil; International Festival of Campos do Jordão Academic Orchestra, SP, Brazil; Conservatory of Nice Symphony Orchestra, France; Ensemble Musiques du siècle et XXème Contemporaines, Nice, France. As a soloist, appeared with the Porto Alegre Symphony Orchestra, Symphony Orchestra of the University of Caxias do Sul, Unisinos Anchieta Orchestra, Symphony Orchestra of SESC, SESI/Fundarte Chamber Orchestra, Theatro São Pedro Chamber Orchestra, among others.
In 2005, aged just 17, passed the audition to integrate Youth Orchestra of the Americas, performing with this group during the months of June and July 2005, concerts in major concert halls in South America.
As lecturer, he acted as trumpet teacher at the XXVIII and XXIX International Music Festival of Pará, II and III International Brass Festival "Urubrass" – Montevideo/URU and I Seminar on Performance and Research in Brass Instruments – Goiânia/GO, besides performing several masterclasses in schools and social projects in the state of Rio Grande do Sul, Brazil.
Tiago Linck is a founding member of the "Quinteto Porto Alegre", professor of trumpet at the Music School of the Porto Alegre Symphony Orchestra – Conservatory Pablo Komlós and, since 2009, integrates the Porto Alegre Symphony Orchestra as Solo Trumpet.
Instruments
MBX3 – Heritage

Retour en Haut