Search
Thomas Inderka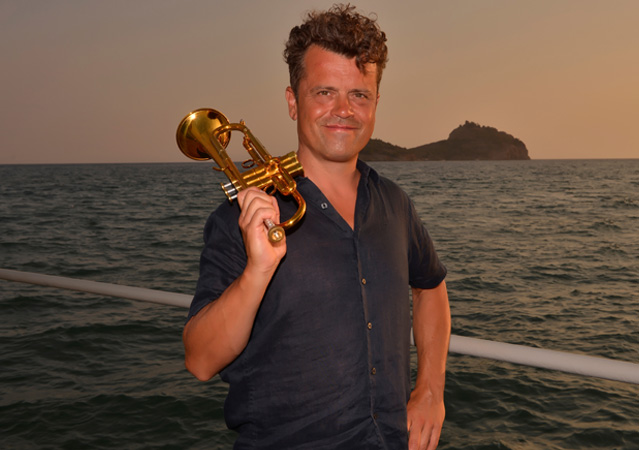 Lead-Trompeter der Bigband der Bundeswehr
Thomas Inderka kam im Alter von 11 Jahren zum Trompetenspielen. Später studierte er an der Hochschule für Musik Köln (Abtl. Aachen) und an der Folkwanghochschule Essen.
In jungen Jahren spielte er über lange Zeiträume Leadtrompete u.a. im Landesjugend-jazzorchester NRW und in der Bigband der Musikhochschule Köln unter Jiggs Whigham.
Er spielte lange Jahre in verschiedenen Musicals, meist als Leadtrompeter. Unter Anderem bei »Starlight Express«, »Saturday Night Fever«, »Hair«, »Die Schöne und das Biest«, »Les Miserables«, »Grease«, »Miami Nights«, »Chicago« und »Kiss Me Kate«, »Spamalot«, »Kein Pardon«.
Er war in verschiedenen Big Bands tätig, so u.a. in der RIAS Big Band, dem King of Swing Orchestra, der Big Band Convention, dem Cologne Contemporary Jazz Orchestra, der Wolfgang Schmidke Big Band, in der HR Big Band und bei Tom Gaebel.
Er begleitete folgende Künstler und Bands oder spielte bei Aufnahme für diese mit:
Caterina Valente, Soulcats, Al Martino, Udo Lindenberg, Bobby Shew, Al Porcino, Ack van Rooyen, Katie Melua, Los Salceros, Curtis Stigers, Die Ärzte, Max Mutzke, Get Well Soon, Alice Francis, Mick Flannery, Manfred Schoof, Buddy De Franco, Gitte Haenning, Victoria Tolstoy, Sylvia Droste, Booster, Helge Schneider, Bill Ramsey, Felix Janosa, Howard Carpendale, Marla Glen, Kim Sanders Jens Winther, Albert Hammond, Beatsteaks, Imelda May, Max Raabe, Hazy Osterwald and the Entertainers, Selah Sue, Aloe Blacc, Richie Beirach, Brings, Pe Werner, Otto Waalkes, Purple Schulz, Klaus Doldinger, Jürgen Drews, Rudi Carrell, Heino, Adel Tawil (Ich&Ich), Heinz Rudolph Kunze, Klaus Lage, Gerd Köster, Tommy Engel, Stephan Runge, Peter Kraus, Helene Fischer, Jose Antonio Molina, Alison Moyet, Jonathan Jeremiah, Soulfingers, RTL Allstars, Antonia aus Tirol, Klaus Meine und Rudolf Schenker (Scorpions), Ivy Quainoo, Joris, Stephan Suhlke, Atiye, Giovanni Costello,Top Loader, Kimbiza, Imelda May, (Lisa) Schmidt, Joris, Binki Shapiro & Adam Green, Sophie Hunger, Jeff Young, Annett Louisan, Tony Marshall, Christian Venus, Women in Rock,Torsten Goods, Paul Carrack, Reinhold Beckmann, Soulkitchen, Roberto Blanco, Brings, Höhner, Jem Cooke, The Boss Hoss, Ron White Band, Chris Andrews, Yvonne Catterfeld, Alice Russell, Ben Taylor, Michael Kiwanuka, Rebekka Bakken, Marc Marshall, Beth Hart, Stefanie Heinzmann, Simone Kermes, Giovanni Costello, Sido, etc.
Diverse Tourneen führten ihn in die meisten Länder Europas, USA, Mittelamerikas, Südamerikas, in die Karibik, West- und Südafrika, Indien, China und in arabische Länder.
Als Studiomusiker ist er in verschiedenen Stilrichtungen auf vielen CDs und in Fernsehjingles zu hören.
Auch das Qatar Philharmonic Orchestra, die Wuppertaler Symphoniker und die Bergische Symphoniker engagierten ihn.
Seit 2004 ist er Lead-, Solo- und Wechseltrompeter bei der Big Band der Bundeswehr.
Von 2008 bis 2014 war er Trompeter bei Helmut Zerlett in der Harald Schmidt Show.
Weitere feste Bands derzeit sind u.A. Licence To Chill, Still Collins, Marshall & Alexander und von Pit Hupperten.
Aktuell ist er vermehrt in Smooth Jazz/Chillout Projekten, wie bei Licence To Chill, als auch in Zusammenarbeit mit einem DJ und Effektgerät unterwegs.
Edward H Tarr hat ihn in den letzten Jahren beim Erlernen der (lochlosen) Naturtrompete unterstützt, so dass er nun auch öfters Barockmusik auf diesem Instrument in der Kirche mit Orgel spielt.
Retour en Haut