Search
Thierry Caens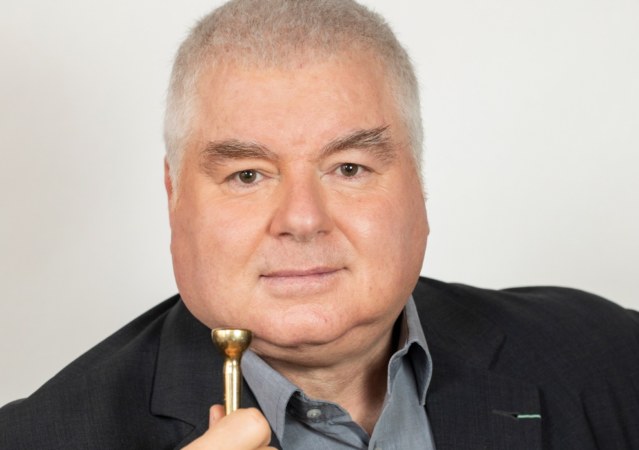 Professor of trumpet at the Conservatoire National Supérieur de Musique of Lyon
Born in 1958 in Dijon, France, Thierry Caens studied music with his father, Marcel Caens, then with Robert Pichareau and Pierre Pollin. He entered the Paris Conservatoire (C.N.S.M.) where he studied in Maurice André's class, obtaining first prizes for trumpet in 1977 and for cornet in 1978.
At the age of twenty years, he became a trumpet soloist with the Orchestre de Lyon and from 1981 to 1985 he was a cornet soloist with the Orchestre de Paris. In 1981 he was awarded a bronze medal at the International Competition in Geneva. He also founded "Le Concert Arban", for which he worked until 1989, when he became musical director of Les Cuivres Français. Furthermore he plays trio with André Cazalet, french horn, and Michel Becquet, trombone.
Thierry Caens teaches at the Regional Conservatoire in Dijon and now also at the National Lyon Conservatoire. He is a composer and arranger, and also in charge of publications for Hamelle/ Leduc and Midi-Musique.
He now devotes most of his time to his career as a soloist. He has appeared at many of the world?s greatest concert venues in France, Italy, Switzerland, Japan, the United States, China, and other countries.
He plays with the greatest soloists, including M. André, J. Guillou, N. Freire, G. Oppitz, J.-P. Wallez, B. Engerer, M. Piquemal, D. Sitkoveski, B. Fontaine, J.-F. Heisser, M.-J. Jude, P. Meyer, M. Bourgue, and with many fine orchestras (Moscow Chamber Orchestra, Israel Camerata, Tokyo Metropolitan Symphony, F. Liszt Orchestra of Budapest, Ensemble Orchestral de Paris, Orchestre de l'Ile de France, Bernard Thomas Ensemble, Orchestre Lamoureux, Orchestre Colonne, Toulouse National Chamber Orchestra, etc.).
He is really one the great trumpeters of the present day.
He also plays for the cinema (soundtrack of the film "Cyrano de Bergerac" with Jean-Claude Petit), and he works with singers (William Sheller, Lambert Wilson) and jazzmen (Martial Solal, Patrice Caratini, Antoine Hervé) and with musicians from all sorts of backgrounds (including J.J. Mosalini, G. Beytelmann, M. Colombier, D. Goyone, and R. Aubry).
Photographer : Philippe Maupetit
Mouthpiece : TC
Instruments
Challenger II 31372

Challenger II 3136

31312

Retour en Haut