Search
Robin Hayward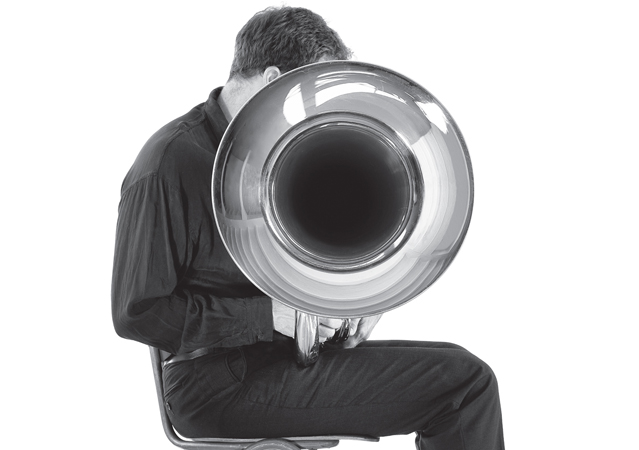 Tuba player, composer, researcher
The tuba player and composer Robin Hayward was born in Brighton, England in 1969. He studied classical music at the University of Manchester and tuba at the Royal Northern College of Music, where he graduated in 1991. In following years he was active in the improvised and experimental music scenes in Manchester and London. Since 1998 he has been based in Berlin.
He has introduced radical playing techniques to brass instruments, initially through the discovery of the 'noise-valve' in 1996, and later through the development of the first fully microtonal tuba in 2009. In 2012 he invented the Hayward Tuning Vine, partly out of a desire to visualise the harmonic space implicit within the microtonal tuba. In 2005 he founded the ensemble Zinc & Copper to explore brass chamber music from an experimental music perspective.
Robin Hayward has toured extensively both solo and in collaboration, and been featured in such festivals as Maerzmusik, Fri Resonans, Donaueschingen, TRANSIT festival, Ghent Festival of Flanders, Ostrava New Music Days, Sound Symposium, Kieler Tage für Neue Musik and Wien Modern. Collaborations include such musicians as Charles Curtis and Roberto Fabbriciani, along with composers such as Christian Wolff, Alvin Lucier and Eliane Radigue. His approach to the tuba has been documented in the solo releases Valve Division, States of Rushing, Nouveau Saxhorn Nouveau Basse and Rubble Master, along with numerous collaborative releases. These include the microtonal tuba trio Microtub and the tuba and double bass duo Reidemeister Move. He has lectured at such institutions as Stuttgart Musikhochschule, the Sibelius Academy in Helsinki, UDK Berlin, Dartmouth College and Wesleyan University. He has also worked regularly with such orchestras as the Rundfunk-Sinfonieorchester Berlin and the Konzerthausorchester Berlin, and from 2002 to 2012 was a member of the new music ensemble KNM Berlin.
In 2012 the International Tuba and Euphonium Association (ITEA) presented him with the Clifford Bevan Award for Excellence in Research for his 2011 article on the history and development of the microtonal tuba. In 2016 he also received the ITEA's Jim and Jamie Self Creative Award.
Retour en Haut