Search
Philip Cobb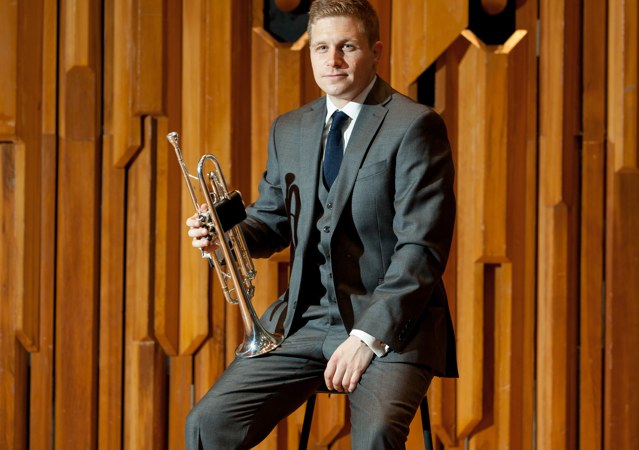 Principal trumpet of the BBC Symphony Orchestra
Philip is a fourth generation Salvationist and comes from a family that is intrinsically linked with Salvation Army music making at its highest level. From a young age, Philip regularly featured as a cornet soloist, appearing alongside his brother Matthew and father Stephen, accompanied by his mother Elaine. However, in the ensuing years he found himself making more regular appearances as a soloist in his own right.
In 2000 he gained a place in the National Youth Brass Band of Great Britain, where he became principal cornet on a number of courses and won the prestigious Harry Mortimer award on four occasions. As a student at the Guildhall School of Music and Drama in London, Philip studied with Paul Beniston (Principal Trumpet of the London Philharmonic Orchestra) and world-renowned trumpet soloist Alison Balsom. In 2006 he took part in the prestigious Maurice André International Trumpet Competition and was awarded one of the major prizes in the competition as the Most Promising Performer. While studying, Philip played in The Salvation Army's International Staff Band and also released his debut solo CD, 'Life Abundant', in 2007, accompanied by the Cory Band and organist Ben Horden. The following year he was awarded the Candide Award at the London Symphony Orchestra's Brass Academy also played with the European Youth Orchestra as principal trumpet.
Prior to leaving the Guildhall School of Music and Drama, Philip was already working with orchestras such as the London Philharmonic, London Chamber and BBC Symphony orchestras however by the time he had completed his Bachelor of Music degree he had already secured his current post in the London Symphony Orchestra. Philip has also played 'guest principal' at The Concertgebouw Orchestra. Despite his heavy schedule with the orchestra, Philip continues to maintain his solo career and a continued interest in brass bands and has just released his second solo cd called 'Songs from the Heart' accompanied by the International Staff Band'.
He is also actively involved with the recently formed Superbrass, Eminence Brass and Barbican Brass ensembles. One of his other passions is film music and he enjoys the opportunity of pursuing this area of music-making with the LSO and also as a freelance trumpet player. Recent soundtracks on which Philip can be heard include: 'Harry Potter', 'Twilight', 'New Moon', 'The Pirates', 'Shrek', 'A better life', 'Rise of the guardians' and 'Monuments Men'. He was also featured in the recent opening and closing ceremonies of the London Olympic and Paralympic Games.
Instruments
Challenger II 31372

31312

Retour en Haut