Search
Patrick Young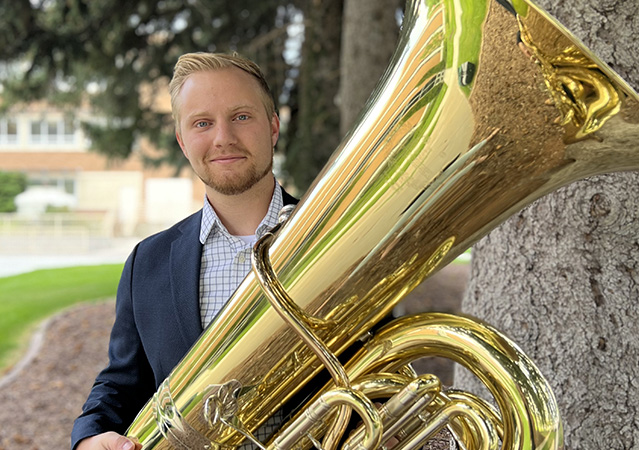 Principal Tuba at Opera Colorado
Dr. Patrick E. Young currently serves as the Director of Bands and Assistant Professor of Low Brass at Idaho State University. Prior to assuming his position at ISU, he previously served as the Director of Bands and Low Brass instructor at Young Harris College in Young Harris, Georgia. Dr. Young, an alumnus of Young Harris himself and Georgia native, received a Bachelor of Music Education degree at YHC before going on to receive a Master of Music Performance in Tuba from the University of Georgia. He then completed his Doctorate of Musical Arts in Music Performance and Pedagogy from the University of Colorado Boulder in 2020. Dr. Young's dissertation, entitled "Sorting Shapes: The F-Tuba Helper," discusses the performance experience between low brass performers and their collaborative pianists. In the summer of 2023, he will be recording a new CD for tuba entitled, "A Night at the Opera" featuring Dr. Mark Neiwirth on piano.
In addition to his duties at ISU, Dr. Young also serves as the principal tubist of Opera Colorado, a renowned opera company located in the heart of Denver, CO. He also serves as the principal tubist in the Taneycomo Festival Orchestra (TFO) in Branson, Missouri during the summers, and during the year performs with the Cantare Brass Quintet, a new and unique chamber group comprised of professional performers and university professors from around the United States. Dr. Young also is the bass trombonist in the Idaho State-Civic Symphony. He formerly served as the principal tubist with the Longmont Symphony Orchestra and Arapahoe Philharmonic in Colorado.
As a soloist he has performed at the Southeastern Regional Tuba Euphonium Conference as a guest artist and with the University of Georgia British Brass Band under the direction of Mr. Phil Smith, former Principal Trumpet of the New York Philharmonic. Dr. Young has received First Place in the Rocky Mountain Brass Solo Contest, was a semi-finalist in the International Lenard Falcone Festival and Competition in Michigan and was awarded Second Place at the Northwestern Tuba Euphonium Conference in Washington. He has been runner-up or semi-finalist in numerous premiere military bands, including the Army Field Band and the President's Own Marine Band.
As an educator, Dr. Young was a recent guest artist at the Moscow Conservatory, the Gnessin Musical College, and the St. Petersburg Conservatory in Russia during the 2019 Russian Tour with the Fortress Brass Quintet. While abroad in Russia, he performed as a soloist with the St. Petersburg Conservatory Orchestra, taught masterclasses, individual lessons, and gave numerous recitals with the Fortress Brass Quintet.
His primary tuba instructors include Professor Mike Dunn (CU Boulder), Professor David Zerkel (UGA/University of Michigan), Dr. David McLemore (Central Washington University), and Simon Wildman (President's Own Marine Band). Dr. Young's primary conducting influences include Dr. Don McKinney (CU Boulder), Dr. Dan Bara (UGA), Dr. Jaclyn Hartenberger (UGA), Dr. John Lynch (University of WisconsinStevens Point), Dr. Mary Land (Western Michigan), and Dr. Mike Campbell (Young Harris).
Dr. Young is a member of the International Tuba Euphonium Association (ITEA), American Society of Composers, Authors, and Publishers (ASCAP). He is also on call to perform with the Colorado Ballet, the Boulder Philharmonic, Steamboat Symphony Orchestra, Cheyenne Symphony, Fort Collins Symphony, Colorado Symphony, and Boise Philharmonic. His other research interests include history of rap music and exploring creative ways to make young music students hirable immediately after their university experience.
Dr. Young is a Performing Artist and Clinician for Melton Meinl Weston and B&S instruments.
Retour en Haut