Search
João Mogo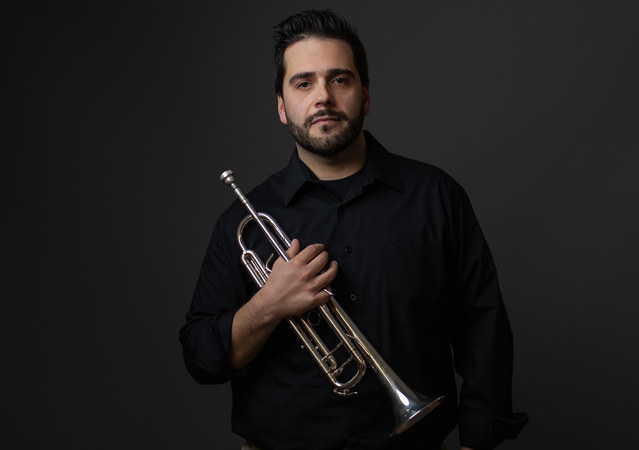 Tutor of Trumpet and Chamber Music at Conservatório de Música de Loulé & Co-principal trumpet with Orquestra do Algarve
João Mogo (1983), born in Carviçais, Portugal, began his musical career in his local wind band at the age of 12. In 1997, he began studying Trumpet at Escola Profissional de Artes de Mirandela, with professor Maciel Matos. Two years later (1999), he commenced studies in Escola Profissional de Música de Espinho, where he studied under Jorge Almeida tuition, until graduating in July 2002.
In September 2002, João started his bachelor degree studies at the Academia Nacional Superior de Orquestra (ANSO), under tuition of David Burt, Rui Mirra and Sérgio Charrinho. Two years later, João received a scholarship from the College Swanston Fund to continue his studies at the prestigious Royal Northern College of Music in Manchester, UK. At the RNCM, João studied under tuition of John Miller and Murray Greig, who both inspired and encouraged him to pursue an orchestral career. During his time at the RNCM, João performed with all the major ensembles including the RNCM Symphony Orchestra, Wind Orchestra, Brass Ensemble, Brass Band, Opera Orchestra, Chamber Orchestra, New Ensemble and appeared as a soloist performing the world première of Matthew Sergeant's solo work for Trumpet and Brass Band, at the RNCM Brass Festival in 2007.
Also in 2007, João was appointed Principal trumpet with Orquestra Clássica de Espinho. Later in 2007, João concluded his degree in Manchester and was awarded a scholarship by the Royal Scottish Academy of Music and Drama in Glasgow to continue his studies with John Wallace, Mark O'Keefe and Peter Franks. In 2008, he obtained his Postgraduate Diploma with great success. Whilst in Scotland, João performed with numerous RSAMD ensembles, including the Symphony Orchestra, the Academy Brass and performed Vivaldi's Concerto for Two Trumpets as a soloist with the RSAMD Chamber Orchestra.
After a 4 months trial, João was appointed co-principal trumpet of Orquestra do Algarve in September 2008.
Since then, João has concluded is Masters degree in Orchestral Interpretation at Universidade Internacional de Andalucía/Fundación Barenboim-Said under tuition of Denis Konir and Rainer Auerbach, as well as his Masters degree in Musical Pedagogy in Instituto Jean Piaget – Instituto de Estudos Interculturais e Transdisciplinares de Almada, both with outstanding results. In 2019, João has also concluded a Postgraduate diploma in Administração e Organização Escolar, in the area of Administração Escolar e Educacional, also with remarkable marks.
João has performed with professional orchestras worldwide and other internationally renowned ensembles, including: BBC Scottish Symphony Orchestra, Orchestra of Opera North, Orquestra Sinfónica Portuguesa, Orquestra Sinfónica do Porto Casa da Música, Orquestra Metropolitana de Lisboa, Orquestra do Algarve, Orquestra Clássica da Madeira, Orquestra da Extremadura and Quinteto de Metais do Seixal. As a student, João has also performed alongside several high profile youth orchestras, including: Orquestra Aproarte, Orquestra Nacional de Sopros dos Templários, Orquestra Portuguesa das Escolas de Música and the International Orchestra of Aberdeen Youth Festival.
During his orchestral career, João has worked under the baton of many world famous Maestros including: Vassily Sinaisky, Ilan Volkov, Gianandrea Noseda, Takuo Yuasa, Stephane Deneve, Andris Nelsons, Elgar Howarth, Martin André, Ernst Schelle, Patrick Lange, Marc Tardue, Roland Kieft, Baldur Bronnimann, Philippe Bach, Jean-Marc Burfin, Cesário Costa, Brian Shembri, Alvaro Cassuto, Pedro Neves, among many others.
João has participated in master-classes with renowned soloists and orchestral musicians, examples being: Häkan Hardenberger, Jan Frederick Christiansen, Allen Vizzutti, Philip Smith, Thomas Stevens, Matthias Höfs, Michael Sachs, Alison Balsom, Markus Stockhausen, Canadian Brass, among many others.
João is a highly active chamber musician. He has performed with the Portuguese Trumpet Ensemble, most notably in USA at the International Trumpet Guild (ITG), in Denver, Colorado (2004) and Philadelphia, Pennsylvania (2006). In addition to this he was a member of the Skyline Brass Quintet, with whom he won the prestigious Philip Jones Brass Prize in 2007 and were semi finalists of the Royal Overseas League Chamber Music Competition. The Skyline Brass Quintet also performed many chamber recitals across the UK and Italy, including venues such as the world famous St Martin-in-the-Fields in London.
As a soloist, João has had appearances with Orquestra do Algarve playing Concertos such as J.N. Hummel for trumpet and orchestra and Paul Hindemith for trumpet, bassoon and orchestra.
Currently, João is a tutor of Trumpet and Chamber Music at Conservatório de Música de Loulé – Francisco Rosado, Artistic Director of Festival Internacional de Trompete do Algarve and since 2008 co-principal trumpet with Orquestra do Algarve, meanwhile named as Orquestra Clássica do Sul.
João is a B&S artist (Buffet Crampon), and plays with a Challenger II 3137 PCL (Philip Cobb London) model.
Instruments
Challenger II 31372

Retour en Haut