Search
In Medias Brass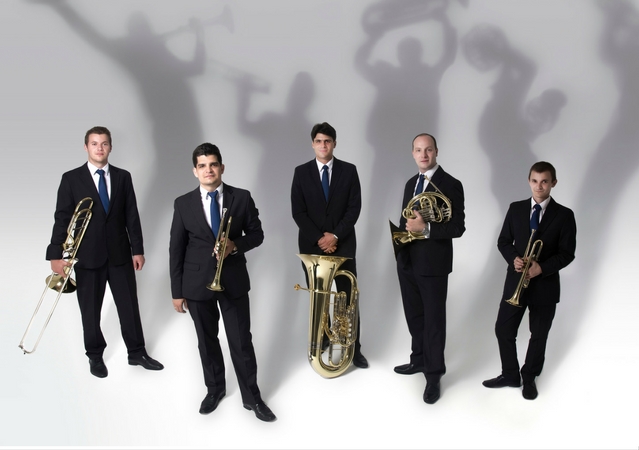 Brass Quintet
The In Medias Brass was founded in 2010 by the former students of Franz Liszt Academy of Music, Budapest. In August 2010 their first joint project was the 6. Jeju International Brass Competition, organized in South-Korea, where they had great success: in addition to coming first in the chamber music category they won every solo category they entered (horn, trombone and tuba) despite the fact that almost three hundred participants took place in the competition from all over the world. With this prize In Medias Brass won the following international prizes:
August 2010: 6th Jeju International Brass Competition, (Jeju, South-Korea), 1st place
November 2010: 11th International Chamber Music Competition for Brass Ensembles (Passau, Germany), 1st place
April 2011: ''Svirel'' International Competition (Stanjel, Slovenia), 1st place and special prize
May 2011: 7th Osaka International Chamber Music Competition, (Osaka, Japan), 2nd place
October 2011: 11th International Music Competition for Young Performers "Cittá di Chieri" (Italy) 1st place
April 2012: 8th International Chamber Music Competition (Lyon, France), 2nd place, Public Prize and Special Prize for the best interpretation of Guillaume Conneson's Agora
201:. Knoxville, Tennessee USA – 1st prize
Besides Hungary, they had concerts in Switzerland, Germany, Italy, France, Poland and United States of America. In November 2011 they were given the "Junior Prima" title, which is the highest award for young and talented people in any field of art in Hungary.
Members:
Richárd Kresz
Antal Endre Nagy – trumpet
János Benyus – horn
Attila Sztán – trombone
József Bazsinka jr. – tuba
In Medias brass members perform on:
B&S BS3137ST; BS3136TC; BS3116; BS3131
Antoine Courtois AC420BH; AC131
Hans Hoyer HH7802NAS; HHK10A; HHC23NSA; HH822
Melton Meinl Weston MW2250
Retour en Haut