Search
Angelo Cavallo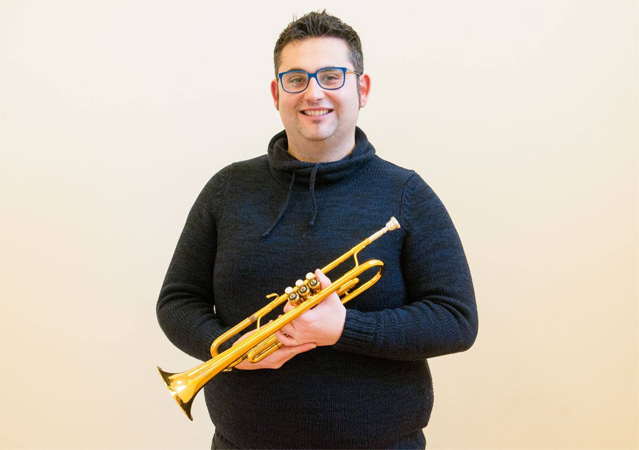 Trumpet Soloist
Angelo Cavallo, born in 1984, started learning music at a very early age. His education path brought him to a first Diploma in Trumpet (2004 – Conservatorio di Musica "G. Paisiello", Taranto) and a M. degree in Trumpet (2007 – Conservatorio di Musica "G. Paisiello", Taranto in collaboration with Orchestra dell'Accademia Nazionale di Santa Cecilia, Rome). In 2004 he was awarded with the prestigious "Rotary Club" prize and after that, he earned a M. A. in Music Performance (2011, Conservatorio della Svizzera Italiana – Lugano) under the guidance of Francesco Tamiati (solo trumpet of Teatro alla Scala, Milan). In the same years he took part to several Masterclasses with A. Vizzutti, A. Lindemann, S. Burns, F. Tamiati, A. Lucchi, G. Parodi, D. Simoncini, A. Tofanelli, M. Maur, A. Conti and A. Ciccolini, L. Giuliani, L. Benucci among others. In addition, he also took part to an annual specialising course with Gabriele Cassone in Accademia Nazionale di Santa Cecilia (Rome).
His professional career started in 2004 with the engagement as Principal Trumpet of Orchestra I.C.O. della Magna Grecia (2004-2010), going further with the role of Principal Trumpet of Cairo Symphony Orchestra (2010) and of Daegu Symphony Orchestra (2014). His professional net is made of collaborations with a number of prestigious orchestras and operatic organisations, such as: Teatro alla Scala, Teatro Regio di Parma, Orchestra dell' Arena di Verona, Haydn Orchestra di Trento e Bolzano, Teatro Carlo Felice di Genova, Teatro La Fenice di Venezia, Cairo Symphony Orchestra, Orchestra da Camera di Mantova, Orchestra ICO della Magna Grecia, Filarmonica della Fenice di Venezia, Teatro Petruzzelli di Bari, Baroque Orchestra dell'Ensemble Gabrieli (natural trumpet), Orchestra della Radio della Svizzera Italiana, Teatro Olimpico di Vicenza among others. Furthermore, his list of engagements is enriched by the collaboration with world renowned soloists and conductors, such as D. Gatti, Y. Temirkanov, J. Valcuha, A. Lonquich, A. Tamayo, WD Haushild, J. Schiffman, Ter Jung, D. Renzetti, G. Pehlivanian, A. Volmer, F. Lanzillotta, B. Furrer as well as S. Krylov, D. Trifonov, A. Ciccolini, R. Bahrami, Uto Ughi, R. Cominati, M. Devia, A. Gavrilov, G. Stuani, L. Zilbestein, S. Verzari, M. Brunello, S. Bollani.
His passion towards music embraces also contemporary repertoire; indeed, he is occasionally part of MIDI ensemble (Milan). Morover, he is the Artistic DIrector and house Professor of ITALIAN TRUMPET ACADEMY.
As soloist, he published the following albums:
"IMAGES" (Preludio Music), trumpet and piano. Angelo Cavallo – Michele Fontana. Music by A. Honegger, L. Capuano, A. Zanon, F. Carretta, P. Liuzzi, G. Ligeti. (2015)
"BOUQUET MUSIQUE" (Preludio Music), trumpet and piccolo trumpet with Ferrara Saxophone Quartet. Music by G. Gershwin, J. B. Arban – V. Bellini, G. Ratti, C Hohne, A. Marcello, D. Scarlatti, N. Paganini.
"ARBAN, FANTASIES ON VERDI OPERAS" (Dynamic). cornet and piano, Angelo Cavallo – Michele Fontana. Music by G. Verdi –  J.B. Arban. (2017)
Angelo Cavallo is a Buffet Crampon Artist and plays B&S and A. Courtois instruments.
Instruments
Challenger II 31372

Challenger II 3136

Discography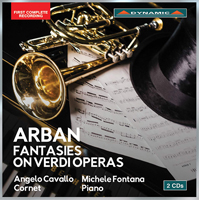 Fantasies on Verdi Operas (2016) Dynamic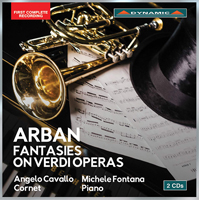 Fantasies on Verdi Operas (2015) Dynamic
Retour en Haut