Search
James Suggs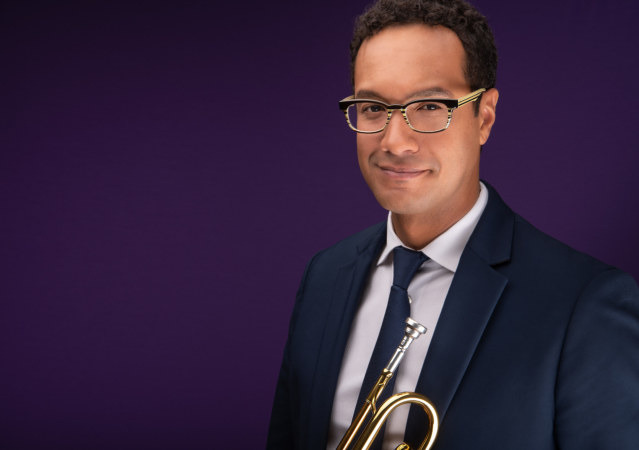 Adjunct Professor at University of South Florida
Originally from Harrisburg, Pennsylvania, James Suggs began playing the trumpet at nine years of age. At fifteen, he started playing professionally with jazz groups in the Northeast Ohio area and occupied the first chair position in the Canton Youth Symphony. During high school, he studied privately with jazz and classical professors, most notably with Jack Schantz and Scott Johnston. He also attended Akron University's Summer Brass Camp on a full scholarship.
At sixteen years of age, James was selected to tour with THE CONTINENTAL SINGERS which gave him the opportunity to play for audiences in Switzerland, Holland, Germany and throughout the United States.
After graduating high school, James attended Youngstown State University in Ohio with a scholarship, where he received a Bachelor's Degree in music performance with a jazz emphasis. In those four years, he gained valuable experience performing in the University's big bands and was featured on the CD's "Biddle De Bop" and "Lester Left Town." He also performed in jazz combos, classical orchestras, salsa, and Latin jazz groups under the direction of esteemed professors, Tony Leonardi, Kent Engelhardt, Stephan Gage and Chris Krummel to name a few. In his junior year, James was selected to perform with a jazz quintet comprised of faculty and students, in Beijing, China. There, they performed at three conservatories of music.
Between 2000 and 2006, James was employed for six contracts with Norwegian and with Royal Caribbean cruise ships, where he performed in jazz combos and in the main theater's orchestras.
In 2005 he was hired as the trumpet soloist in the world famous Glenn Miller Orchestra under the direction of Larry O'Brien, touring throughout the United States and recording their latest CD, "Steppin' Out." A year later he performed as the soloist with another legendary big band under the direction of Buddy Morrow, The Tommy Dorsey Orchestra.
James began an extensive experience in Buenos Aires, Argentina in November of 2005 after being invited by a musician friend. In those eight years, he played professionally, learned to speak Spanish proficiently, taught private lessons to many students and toured all over the world with Argentine bands, one being LOS PERICOS, with whom he was the only trumpet player. The band performed for massive audiences in cities like Lisbon, London, Milan, Barcelona, Madrid, Caracas, San Francisco, Chicago, and New York to name a few. He was also hired to play in two professional musicals in downtown Buenos Aires, "Beauty and the Beast" and "Young Frankenstein".
Throughout his career, James has had the distinct honor of playing with and learning from such musical legends as Kenny Burrell, Joanne Brakeen, Rufus Reid, John Fedchock, Maria Schneider, Sean Jones, Harold Danko, Kenny Werner, Marvin Stamm, Bob Mintzer, Billy Hart, Frank Foster, Allen Vizutti, Robin Eubanks, Jane Ira Bloom, Eric Alexander, John Clayton, Chuck Mangione, John Lamb and Bob Brookmeyer among others.
He has performed for audiences in notable venues such as The House of Blues in Orlando, FL., B.B. King's in New York City, Yoshi's in San Francisco, The Howard Theatre in Washington D.C., Thelonious in Buenos Aires, Argentina, and at Ronnie Scott's and The Clapham Grand both in London, England.
James formed a Miles Davis tribute band in 2012 in Buenos Aires, Argentina. Now, after returning to the U.S., he continues to perform with an American version of this quintet. Another project that he has created is a homage to the vast and captivating music of New Orleans, in which he pays his creative respects to musical greats ranging from Louis Armstrong to Wynton Marsalis. This sextet maintains the original format of those great bands, utilizing both a clarinet and a tuba. He has played to various sold-out audiences at the Palladium Theater's Side Door, in St. Petersburg, FL. There with his group, he covered the music of such artists as Lee Morgan, Chet Baker, Dizzy Gillespie, Louis Armstrong, and Miles Davis. In 2015 he was awarded the Best of the Bay's "Best Jazz Transplant".
In May of 2018, James received a Masters Degree in music- jazz performance from the University of South Florida. There, he studied trumpet with Dr. Jay Coble and jazz improvisation with Jack Wilkins and performed in the top big band and jazz combo.
Instruments
MBX3 – Heritage

Retour en Haut